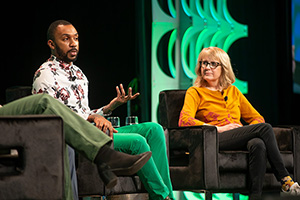 [ad_1]
Events
What to See at SXSW EDU 2023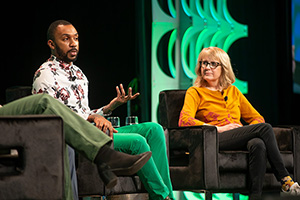 SXSW EDU 2022 (photo by Steve Rogers)
Each year, the SXSW EDU Conference & Festival convenes practitioners, policymakers, and dreamers for an exploration of the future of education. Coming to Austin March 6-9, the event for education and industry professionals will offer a diverse array of workshops, mentoring opportunities, film screenings, competitions, performances and other learning experiences designed to deliver inspiration, connection, and meaning.
SXSW EDU 2023 offers more than 300 in-person sessions plus an Expo space showcasing innovations in learning — so there's truly something for everyone. We sifted through the program to identify the most noteworthy sessions focused on key issues in higher education and IT. Here are our top picks:
Must-see: Trending in Education: Learning Trends March Madness 2023 (March 6, 11:30 a.m. – 12:30 p.m. CT)
The draw: Emerging trends battle it out NCAA bracket style in a panel discussion about the importance of storytelling, diverse perspectives, breakthrough thinking and more.
Must-see: What Is Educators' Role in Student Mental Health? (March 6, 2:30 p.m. – 3:30 p.m. CT)
The draw: Hear directly from students about how their mental health has impact their college experience, and unpack educators' role in supporting students who are struggling.
Must-see: The Success Business: How Universities Must Adapt (March 6, 3:30 p.m. – 4:00 p.m. CT)
The draw: George Mason University President Gregory Washington proposes a new education infrastructure to help students reach their academic and career goals, ranging from entrepreneurship and research supports to certificate programs and 2-, 3- or 4-year plans.
Must-see: CourseGateway: The Path to Equitable Education (March 7, 11:30 a.m. – 12:30 p.m. CT)
The draw: Educause is hosting a meet-up to learn more about CourseGateway, a tool for discovering, evaluating, and selecting high-quality, equity-centered courseware for high-enrollment introductory-level undergraduate courses.
Must-see: Confessions of a College Mascot (March 7, 2:30 p.m. – 3:00 p.m. CT)
The draw: Matt Weber, chief creative officer at the University of Virginia, shares an unusual story of building community in the face of remote work and learning.
Must-see: The Future of Learning in the Metaverse (March 7, 3:30 p.m. – 4:00 p.m. CT)
The draw: XR futurist Maya Georgieva, senior director of the Innovation Center at The New School, breaks down how developments such as the metaverse will reshape the educational landscape.
Must-see: Shark Tank: Edu Edition (March 7, 4:00 p.m. – 5:00 p.m. CT)
The draw: Get inspired by this pitch fest of transformative ideas from new companies, nonprofits, and big dreamers, all geared toward improving the college experience.
Must-see: Investor Talk: Skills, Employability, & Pathways (March 8, 11:30 a.m. – 12:30 p.m. CT)
The draw: Education and social impact investors discuss the emerging technologies they believe have the potential to bridge the divide between education and employment.
Must-see: Engaging Learners to Improve Career Outcomes (March 8, 3:30 p.m. – 4:00 p.m. CT)
The draw: XPRIZE has set its sights on revolutionizing the future of work with XPRIZE Rapid Reskilling, a 30-month competition to "quickly reskill under-resourced workers for the digital revolution."
Must-see: The Higher Ed Geek Podcast: Right Sizing the University (March 9, 10:00 a.m. – 11:00 a.m. CT)
The draw: Panelists discuss how to adapt the various components of an institution to suit a constantly changing landscape. What does that look like in practice? Engaging students by converting computer labs into esports arenas, integrating chatbots, leveraging the metaverse, and more.
Advance registration is $595 (walk-up rate is $696). Prices increase after February 2. For more information, visit the SXSW EDU site.
About the author: Rhea Kelly is editor in chief for Campus Technology. She can be reached at [email protected].

[ad_2]
Source link
The SXSW EDU 2023 – Campus Technology Conference will be held in Austin, Texas, March 9-12, 2023. This four-day event is organized to provide school administrators, educators, entrepreneurs, and industry experts with the opportunity to innovate, connect, and imagine the future of educational technology.
The event focuses on four key pillars of education transformation: equity and access, mental health, digital transformation, and collaboration. Through these four pillars, attendees will have the chance to explore how technology can make a difference. Attendees will gain access to cutting-edge tools and experiences, as well as in-depth conversations about the most pressing issues facing education.
The SXSW EDU 2023 – Campus Technology Conference will feature numerous interactive exhibits. Attendees can explore digital tools and technologies, interact with virtual and augmented reality experiences, and learn about emerging trends in educational technology.
This year's program will include panel discussions, lectures, workshops, and keynote presentations from leading education experts. Topics of discussion will include using technology to foster student engagement and collaboration, preparing students for the changing job market, and leveraging technology to close equity gaps in education.
The conference will also feature Startup & Pitch events, giving new education technology companies the opportunity to present their unique solutions. From cloud-based services to classroom management tools, these startups will showcase how their products can meet the changing needs of educators.
Finally, the event will provide attendees with the chance to network with industry professionals, establish long-term partnerships, and get an inside look at some of the most innovative educational technology companies in the industry.
The SXSW EDU 2023 – Campus Technology Conference offers an exciting opportunity to explore the growing world of educational technology and its potential to revolutionize the education system. Attendees can look forward to connecting with like-minded peers, learning about the latest developments in the industry, and exploring cutting-edge technologies that could shape the future of education.