[ad_1]

This undertaking is portion of their two-thirty day period summer season internship at IIT, Hyderabad. Through this period, Sidartha & Sathwik performed a crucial purpose in building an ergonomic & battery driven clip-on named VGO
Sidartha Pathi and Sathwik Reddy, B.Des(Hons.)- Item Design learners at Woxsen College(All India Major Pvt. Design and style University, IIRF 2021), have contributed to the ongoing "my UDAAN" job at IIT, Hyderabad. myUDAAN is an software that connects end users to mobility solutions and products and services. 
This undertaking is aspect of their two-thirty day period summer time internship at IIT, Hyderabad. For the duration of this phase, Sidartha & Sathwik played a essential function in building an ergonomic & battery-run clip-on called VGO. This is an external attachment that converts a wheelchair into a secure electric three-wheeler.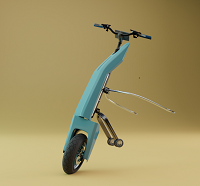 VGO has come to be just one of the most crucial inventions in the motorized wheelchair class, that enhances both utility and mobility. This innovation also addresses the part of environmental duty as it is entirely electric and can be charged at devoted docking stations. This wheel chair is ergonomically built and is compact ample, enabling consumers to commute inside buying malls, airports, metros etcetera. With the ending touches in development, the VGO is slated to launch soon.
Exceptional Features of VGO Enabled Wheelchair
– A strong VLDC motor
– Intelligent LFP battery
– Effortless to attach & detach
– Geo-fencing & real-time GPS tracking
– Water-resistant
Prof. Santosh Kocherlakota, Assistant Professor- University of Arts & Design and style claimed, "By contributing to this mobility layout project, Sidhartha Pathi and Sathwik Reddy are  genuinely encouraging the specially-abled group, though also more justifying the price that structure can add for the betterment of the modern society."
[ad_2]

Supply hyperlink Recently, a remarkable occurrence took place when the alumni of Woxsen University and the engineers of Indian Institute of Technology Hyderabad got together for a common project – 'My UDAAN'. It was an initiative taken by the Woxsen Design Students focused at leveraging the expertise of the engineers at IIT Hyderabad to develop an Android Apps Platform.
The purpose of this collaboration was to spread knowledge, instill creative confidence, and inspire students and community members with the help of digital mediums. The project, My UDAAN, focused on creating and deploying mobile applications with the objective of delivering a wide variety of learning resources and educational services to the local populace, including online classes, access to online educational material, and software for tracking study progress amongst other things.
It has to be noted that this project was undertaken by a team of enthusiastic, talented, and dedicated design students of Woxsen University. Guided by the experienced faculty and backed by the high-end research environment of IIT Hyderabad, the group was successful in improving the lives of many in rural areas who are deprived of access to quality education.
This unique project of Woxsen design students received unfailing support from IIT Hyderabad and has been successful in delivering quality digital education to students in remote villages and areas. At present, the My UDAAN initiative serves around 500 people in over 35 villages and is still growing, in the process of increasing access to digital education. This dynamic collaboration between Woxsen University and IIT Hyderabad not only highlights the latter's support of rural entrepreneurship, but also showcases the potential of rural students and their ability to come up with innovative ideas with proper guidance and mentorship.
Overall, this laudable initiative may prove to be a sign of better times for the people of rural India, who are slowly, but surely gaining access to quality education. We hope that this daring project provokes much required dialogue around the subject and will ultimately bring about a change in the way the world perceives rural India.